There's considerable ongoing discussion of influence — how to get it, work it and hold onto it — underway in the social universe. This intense interest has resulted in a wide variety of FREE tools people can use to track their/your social influence and thought leadership. These tools include Klout, Twitter Grader and Twitaholic, to name only a few. In the past year, the reliance on follower count, as a prime measure of influence has lost credibility, with a pronounced shift to a more considered evaluation based on a concoction of mystery analytics and far-reaching connections.
Klout, currently the most popular and buzzed about industry standard for rating social media influence is a highly-debated tool that measures thought leadership and engagement by its own secret analytics and gives you a score based on more than 35 variables including retweets, followers, engagement and the quality of the people following and engaging with you. Klout scores range from 1 to 100, with higher scores representing a wider and stronger sphere of influence.
Despite Klout's newfound klout, when it comes to measuring "influence," one very influential and respected word of mouth agency, Likeable Media, asserts that thought leadership can indeed be measured by numbers: specifically, your number of Twitter followers.
This begs the question: Is follower count the best way to prove social media competence and authority?
"I was extremely surprised, given the way social media measurement is evolving, to see a highly respected, early adopter like Dave Kerpen, a founder of the Word-of-Mouth Marketing Organization and CEO of Likeable Media, announcing an employee competition, challenging his staff to grow their Twitter followers to prove their thought leadership, based on follower count," says Strategic Objectives president Deborah Weinstein, who is herself hyper-active on Twitter. (Follow her @DebWeinstein)
"There's been so much time and energy spent discussing social media measurement and its impact — how to create it, how to report it to clients, how to prove its value and ROI — over the last year," Deborah continues. "I was astonished to see a leader like Dave reverting to the most basic and rudimentary measure, follower count, to prove the influence of his crew."
"I simply had to go to our team — who do the same kind of work and seek the same kind of impact, results and influence for our clients — to ask their opinion and advice as to whether Strategic Objectives should do something similar," she says.
At the end of the day, our SO Engagement team agrees, it's important for our staff to be socially engaged because it's what we do. As to whether follower numbers count? Our bottom line advice is that it's preferable to judge thought leadership based on social sphere, influence, engagement and community participation. Someone with only 200 followers can have major influence in an online community through authentic engagement, and play a key and valued role in aligning and affiliating with your brand.
"I question whether 'getting the most followers' is the way to really engage a community and position yourself as a Twitter expert," says @SO_pr Account Manager Monika Rola, who adds that measurement by followers is a flawed process because it's too easily gamed. "We can all grow numbers with the help of Tweet Adder software. If someone wants to be underhanded, they can even pay companies to find followers for them."
Andrew F Stewart our @SO_pr Community Manager agrees, "Everyone starts off with one follower. It's easy to get followers; it's keeping them that's the hard part. Judging anyone or anything, prima facie, can speak more to your flippant need for quick answers than real influence," he says.
Why Numbers Lie (No S*#t, Sherlock!)
It is our opinion that setting measures on social media success should match up to your goal, strategy and tactics. Looking at follower count is as effective as following the newspaper horoscope to guide your daily decision-making. Measuring and reporting ROI by follower and fan count, rather than context, audience demographics, etc. is all too common in the agency world.
A contact of ours recently shared a twitter influencer list with us to review. It comprised approximately 150 Toronto Twitter accounts with the highest number of followers. We vetted the list through our usual filters to make sure it was totally targeted and were totally surprised.
After filtering out the spammers, corporate accounts (no relevance to our campaign) and accounts which had gamed the system by obviously buying followers (few tweets, thousands of followers), we were left with approx 40 real people with any real influence. Of that 40, only a handful would have been interested in engaging with our story.
Don't get us wrong — we do believe a large and engaged audience is hugely important in both social and traditional media. However, we urge you to look beyond the numbers to find the context behind the numbers. Be curious, Sherlock Holmes! Investigate.  Don't be lazy.
Measuring Leadership: beyond the numbers
We believe that measuring sector and category thought leadership should extend way beyond Twitter to the work that you do and the results you achieve. It should include IRL speaking engagements, Twitter lists, blog posts and articles published in major media outlets and so much more. You can have as many engaged followers as you want, but if you're going for the title, Thought Leader, your soap box needs to be prominent in more places than Twitter and your ideas should be thought-provoking and original.
Community manager Andrew F Stewart agrees, "Thought leadership is all about perspective. These days original thought is hard to come by and an original point-of-view is rare and very refreshing. You've delivered genuine insight if you can make me see something in a new light or from a new vantage point," he says.
So how do you cut through the social noise, echo chamber and back-patting to be deemed an authoritative thought leader?
Andrew recommends listening and observing to discover the real influencers who matter most to you, "If you see that someone asks questions but doesn't follow up with answers, it may just mean no one's really connecting with them. It's no wonder!" – "If we must follow numbers, lets look at twitter lists. It takes effort, reasoning, thought and categorization to add someone to a list so why not measure that as a standard of real influence."
Measuring Measurement
Like the "if a tree falls in a forest does anyone hear" metaphor … I like to say If a tweet goes unretweeted, did that tweet ever exist? Retweets are but one small way to measure social success and influence beyond follower numbers. In fact, we recommend a mix of measures including:
–          Followers
–          Retweets
–          Sentiment
–          Clicks (links)
–          Views (of image or video)
–          Unique visits
–          Comments
–          Likes
–          Lists
–          Interaction
–          Sales
–          Buzz and trending topics
The list goes on and on, but we're sure you get the point. There are also several, useful PAID services to help measure thought and brand leadership, including Sysomos and Radian6.
Andrew also suggests looking at how many lists someone appears on, "Lists are a good start if you want quantifiable measurement. Tools like Klout are also starting to show some traction in proving influence."
I'll conclude now with some wise words from our socially-savvy president, Deborah Weinstein: "Social media has become the wild, wild west of marketing with a multitude of disciplines jostling with each other to own the space; and a plethora of self-styled gurus hawking their wares to ill-informed, but hopeful clients, businesses and brands. Make sure to look beyond the hype to fact-based analytics and research when recruiting a marketer to promote your brand and business. True thought leaders will stand out based on their actions and deeds," says Deborah.
There's no question there is a need to establish and measure new high standards for "influence" and "thought leadership." In the meantime we urge smart marketers to resist the temptation of buying into the big social numbers game, as digital budgets begin to rock and rule in the new economy.
Following on this theme of social media measurement, we'll take a more analytical look at follower counts next week.
Melissa Smich is a thought leader on our Strategic Objectives Social Team.
I've been swimming in the #usguys stream since it first appeared in the Twitterverse in the fall of 2010. A 24/7, non-stop twitter chat focused on marketing, social media and tech, #usguys has attracted a diverse and brilliant international community of tweeps who share info, opinion and virtual friendship around the clock.
With more than 1,000 participants, including many leading-edge social marketers around the globe and a constantly shifting conversation ranging from the hottest social media trends, tools and techniques to who's doing, drinking, eating what — #usguys has become an incubator of fresh ideas and a popular hang-out for the socially obsessed.
The idea of creating #usguysEH, Canada's first ever IRL meet-up in Toronto on April 8, 2011, started small, in the form of a tweet I received from @Josepf, an exuberant, hyper-active marketer and poet from Philly, who was planning a spring trip to Toronto to visit family.
"Great," I replied, "let's do a Meet Up!" including @samfiorella, a mutual friend and #usguy I'd met IRL at #ungeeked Toronto last November and absolutely adore, in my tweet. Our convo was, of course, live in the stream and the die was cast from that night. #usguys around the world wanted in!
The who, what, when, where and how much it would cost to stage a meet-up were questions yet to be answered. But the why was very clear. We would create a unique, sleek and chic Toronto destination event starring some of the finest minds in the twitterverse to have fun, meet, greet and make connections that would optimize both our personal and professional lives.
Our original cadré instantly expanded to include @jackineccity from San Francisco, @mentormarketing from NYC, @rubymarcom from Buffalo, @KarimaCatherine, @Smartel and @exoporier from Montreal and @PeterfromOttawa. We had an international happening on our hands.
My co-host in #usguysEH @samfiorella created an awesome website to promote the event and sell tickets; my colleagues at Strategic Objectives, our Toronto-based PR agency, kicked in with sponsorship dollars and impeccable event organizing from logo development through nametags, programs and event-photography and videography.
#usguysEH was everything we'd hoped for. Starring 30 fabulous social media adventurers from the US and Canada, it was an exceptionally elegant and uber-social evening in Toronto's celebrity hang-out, Bistro 990.
An evening of fine food, drink and a fire hose full of lively, trendy conversation, there's little doubt that the round of tequila shots, interspersed amongst our one minute elevator-pitch #intros, helped loosen our tongues. A highlight of the evening included a prezo by Mike Yavonditte (@mikeyavo), CEO of #hashable who flew up from NYC with his senior VP Jane Kim, @Jinner13, to share his latest news. It didn't take long before everyone was hashtag happy with #justmet and #nicetomeetyou.
An oasis of discovery, exploration and fine friendship set to flourish, #usguysEH was a unique opportunity to make it real in the social world and a stunning example of the power of Twitter to attract like-minded tweeps to form meaningful communities.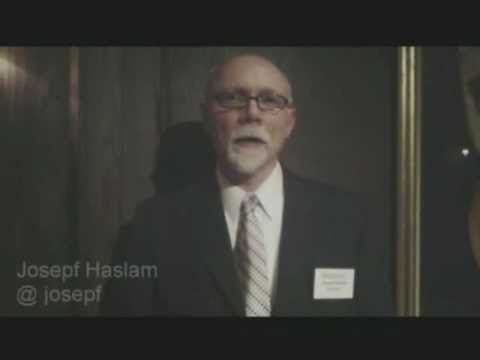 We are SO grateful to our @SO_pr PR pros @AndrewFStewart, @smichm, @mjovanoski, Stephenie Peters, @Sadiethefoodie and @judyslewis, Jim Colbourne and Tom Peterson in Production for their contribution to what was a truly memorable meet-up.
Deborah Weinstein.
Public Relations has awesome power to reach into the hearts, minds and wallets of targeted consumers.
Never has this been more true than now, in the social era, when everyone has the right to be their own publisher and to spread info they/we believe is important, relevant and engaging for our audiences.
My work in Marketing Public Relations began back in the 80's when I co-founded our national, Toronto-based full-service PR firm, Strategic Objectives, with my sister and partner Judy Lewis. Both former TV and radio producers with CBC, CTV and Global TV networks, we'd been on the receiving end of copious off-target PR communications for many years. We knew there had to be a better way to share and spread brand information and to harness the value of credible third party endorsements from key influencers, the media, stakeholders and consumers.
Looking back now, more than 25 years hence, I am reminded of the French saying "Plus ça change, plus c'est la même chose," – the more things change, the more they remain the same!
Yes the world has become much, much smaller with the advent of the fax machine, PC, cell phone, camcorder, digital camera, laptop, smart-phone, tablet and social networks – all devices and platforms that allow us to communicate instantly. But the basics of results-driven communication and the practice of PR remain the same as when we started Strategic Objectives back in 1983.
Craft a solid, reliable, relevant story
Tell it to the right audiences that need/want to hear it
Be honest and real; show integrity with everything you do
Be innovative, integrated, inspired and inspiring
Be proactive, reactive and follow-up meticulously
Be prepared for issues/crisis management
Be consistent and true to your brand –
Be cautious, the internet forms a permanent record –
Be nimble, seize the day and every opportunity –
And most importantly, love what you do!
At #SOSlam we'll discuss the brave new world of social sharing and networking; and the profound impact it has on the way we see, do things and conduct business. But it's important, at the same time, to remember that social media is a tactic, a tool and sometimes a weapon. What it is not, is a strategy, a foolproof path that will take us directly to the fulfillment of our personal and professional goals.
Social media is an awesome new avenue that, like most technology, allows us to do more for ourselves, faster, easier and more independently. It is also uncharted territory, an ever-evolving landscape that challenges, titillates and provokes us with the thrill of the unknown, not-yet-mastered and still unconquered.
I look forward to learning more about social media with you at #SOSlam and to meeting the awesome tweeps who will converge on Knoxville from 12 States and Canada (pick me), on Wednesday, April 13. See you there. Can't wait!
For more information about SOSlam please check out: www.socslam.com
Deborah Weinstein, @DebWeinstein, is president of Strategic Objectives, @SO_pr, Canada's most award-winning PR agency