Viewing posts tagged as "Canada"
Post written by Lauren Wasley, Creative Media & PR Strategist, energi PR.
Many of us make New Year's Resolutions, perhaps in hope that the combined unity and benchmark of a new calendar year will help them stick. Unfortunately it's a sad reality that most of these plans begin fizzling out come March (just look at gyms for an easy example).
If you work in public relations, chances are you're familiar with stress. Last year, the industry ranked sixth in the annual CareerCast.com list of most stressful jobs alongside positions in the military, firefighters and airline pilots. Unfortunately for PR practitioners, this doesn't come as a surprise, as public relations has been a fixture on these delightful lists.
Knowing that your mental health is just as important as your physical health, I wanted to share some tried and true tips for managing your stress levels in the office.
Get up every hour: Whether it is to stretch or take a quick walk, a break from the screen can do wonders.
Cut back on the coffee: I know it's hard, but you won't miss the jitters, believe me. If you suffer from anxiety, you know that it's recommended to cut down the caffeine and there are many tasty and healthier alternatives from herbal teas to even decaf coffee if you can't forgo the flavour.
Stay hydrated: Coffee doesn't count, so make a trip to office water cooler or kitchen (because I've not seen a cooler since the mid-2000s). Not only will it get you moving and away from your desk, it will prevent you from overeating and make your insides happy.
Make friends: Work can be stressful and nothing beats having a support system when times get tough. Even if you're not the most social person outside of work, having someone to vent to or bounce ideas off is invaluable. So consider eating in the lunchroom instead of your desk for once.
Work-life balance: Try not to get in the habit of spending all your evenings at the office. Unless you're on a hard deadline, leave at a reasonable time, or bring your work home. That way at least you can work in sweats on the couch, while watching the Kardashians… or, CBC. Definitely CBC.
————————————————————————
Written by Lauren Wasley, Creative Media & PR Strategist at energi PR.
Many careers paths are chosen because they provide areas where our natural skills or interests can best be realized.  If, like me, you have a knack for creative writing, a passion for presenting and a short attention span, you might end up in public relations.
As an industry, a lot has changed in the seven or so years I've been practicing. Surprisingly, I started at the end of the fax machine era. Coverage came in each morning, hard copies were even kept in binders and we used rulers and calculators to measure the public relations value of each clip.
These past few years it seems there is a new tool, trend, app or offering emerging every few months. Keeping track of these developments alongside the movements of Canadian editors and freelance writers is a full-time job. So, as you can imagine, staying at the top of your game is a skill in itself.
Based on the evolution of the industry, I predict the following four areas will become more critical for public relations practitioners in 2015:
Crisis Communications: 2014 was a tough year for the airline industry with several globally-documented crashes. Although rare, these tragic incidents are a reminder that crisis can hit at the most unexpected times. Whether it's an accident, financial loss or scandal, it is important not only to react quickly to a crisis, but to speak and act appropriately. Local news can become global in an instant and if an issue is not handled correctly, it can quickly spin out of control.
Measurement: Although Media Relations Points (MRP) is the industry standard in Canada, many agencies have clients around the world. As global integration becomes more commonplace, different practices are often employed to develop a level of consistency and allow for countrywide comparisons. Exploring best practices that all teams can understand and use will be key.
Socially Savvy: Most of us can handle content development for social media, but as further emphasis is put on these channels a deeper understanding is required. From both an analytics and advertising perspective.
Paid Content: Although editorial content is still our bread and butter, as newspapers shrink due to cuts in advertising revenue, organic stories are not always an option. To maintain coverage and exposure, agencies need to seek out sponsorships, partnerships and paid content opportunities, like mattes and ANRs, for their clients.
One of the most exciting aspects of our industry is that it is in constant motion. We need to think of change as a positive evolution. The more we know, the better we can do our jobs and that's a plus for everyone.
————————————————————————————
*Originally published in Marketing Magazine
Close to 20 years ago at a Spring Conference of Counsellors Academy (Public Relations Society of America), I heard a startling presentation from the then chairman of one of the big five American accounting firms. For PR to be successful, to be allocated sufficient budgets and earn corporate trust, "buy in" must come from the top.
In the same breath he warned that management consultants may represent our industry's greatest threat. What did he mean by this? Simply stated, short of being proficient at doing media relations or event planning, management consultants bring the kind of talent that resonates with the C-suite. They are analytical, strategic, have great written and verbal communications skills, understand business dynamics and market forces, are highly productive and organized AND they know and can explain numbers. What's more, they are comfortable responding to tough questions about profitability and can do so with really nice charts.
Were we all now going to hire MBAs? At the time that thought was quite appealing and the buzz among my PR agency colleagues was that if we didn't get the ROI thing down pat, we'd soon end up pitching against consulting firms Mercer and McKinsey.
The industry hasn't seen this prediction come to pass. It may be because we don't offer the salaries commanded by management consultants or because promotion and publicity are still a big part of what agencies do. While Canada's PR industry can be held up as a model for its Media Rating Points system, I'd say that we haven't made nearly enough progress in quantifying ROI.
Why is measuring ROI for public relations such a challenge? To begin with, I believe that PR is so diverse in what it comprises that a campaign or strategy would have to be fractured into all of its parts if only to begin to probe each element, let alone dissect them into something that could be evaluated. PR initiatives are also not generally undertaken in a vacuum, so how do we carve out the impact of the PR and attach a number to it? Another obstacle I've experienced is the difficulty in getting sales data from clients as well as details on other marketing programs that may be running concurrently. Company structure may be another impediment when the sales and marketing departments are separate.
I agree with Ford Kanzler, principal of Marketing/PR Savvy in Redwood, California whose approach to the ROI question with prospects is to point out successful brands and the correlation to PR. Al and Laura Ries did a good job of this in their book The Fall of Advertising and the Rise of PR. The problem, though, is that public relations has not become any easier to understand, explain or sell, therefore it has not become easier to measure its value. Or maybe we should reverse that statement.
The greatest challenge will be to convince those who question public relations in the first place. I am not sure that we can or whether we would even want to try and convince these folks. I maintain that unlike other forms of marketing that can be seen, touched and better controlled, for some, public relations is difficult to digest conceptually.
Businesses that have experienced the outcome of a well structured and executed executive reputation or crisis communications plan, whose brands have become household names after a clever social media campaign, those that have harnessed patient and physician support for an advocacy program or driven patients to an information website, recognize the value of their investment. This is where the opportunity lies.
Having a successful ROI discussion with clients and prospects lies in the hands of the PR industry and we should employ the same rigorous processes to get to a meaningful answer. We know what clients want; we need to find a way to give it to them. If we're not sure – then let's find out how best to do so. As the excellent storytellers we are, we need to author the story that speaks to outcomes in a way that our readers can learn. But we may need to illustrate our story with some colourful charts.
This column is the first in a two-part series. Up next: What's out there, what to measure and how.
If there is any doubt about whether I am frustrated, cynical or just plain grumpy over this CASL law, the answer is yes to all three. I might feel differently if I was a lawyer, or could have one permanently on staff, but that's not the case.
As CEO of energi PR, a mid-sized, independently owned, Canadian public relations firm, I am trying to understand why Canada's anti-spam law needed to be so complicated and costly to implement. The law applies to all individuals and businesses sending commercial electronic messages (CEMs) and so, ignorance or a lack of sophistication or resources will presumably not be an excuse to be deviant. And so the rational part of my brain says, wait a minute all you small and medium-sized business that form the cornerstone of the Canadian economy and are trying to do business, win business and stay in business, why would anyone want to penalize those Canadian businesses who do not send SPAM? Ours is the business of public relations. We tell stories. From important medical discoveries to the colour of a new lipstick – and everything in between. Those who take these stories and develop them for their audiences and communities generally want to hear from us and, even when they occasionally might become annoyed by a bit of persistence, they would hardly describe our email communications as SPAM.
Yes, we want to ENLARGE our client's business and our own, but does this compare in any way with penis enlargement supplements, the latest weight loss scheme or an invitation to meet the woman or man of your dreams?
Make no mistake. energi PR is CASL compliant. We've distributed our consent requests, hired one of the country's most knowledgeable internet law specialists, engaged our IT team, implemented a contact management system, ensured that our email signatures provide an unsubscribe function, trained our team, documented our procedures and anointed a Compliance Officer. Can you imagine any better use of our resources?
As I said at the start of this rant, I am tired and grumpy about all of the machinations and cost that CASL has imposed. But I am also sympathetic to those in PR and in other businesses who simply do not have the wherewithal to jump into the CASL action.. The Canadian Council of Public Relations Firms, an industry association that represents more than 25 of Canada's leading PR firms, of which energi PR is a founding member, has further supported its members by obtaining its own legal opinion that focuses on our stock and trade, including communications with journalists. The Canadian Public Relations Society webinar explaining CASL is another valuable resource for our profession.
I agree that SPAM is annoying and efforts should be made to eliminate it. I also don't think that the authors of CASL were intentionally mean-spirited. But sometimes even the very best of intentions come back to bite one on the butt. My sense is that CASL will have little impact on the email junk we've received to date and convinced that unnecessary obstacles have been put in place for honest, legitimate individuals and companies that want to be profitable and contribute to Canada's economy and society. I would have much rather have made a charitable donation than pour thousands of dollars into CASL compliance.
As a final note. I started in business before fax machines were invented. Who knows, maybe making the Canadian commercial email message such a villain will force us back into personal business interaction, which wouldn't be so bad.
—————————————————————————————–
Carol Levine (@Carol_levine) is co-founder and Managing founder of energi PR, digital, communications, an award-winning independently owned Canadian PR consultancy established in 1990 with offices in Toronto and Montreal. energi PR is the Canadian affiliate of the Public Relations Global Network, providing expertise in consumer and healthcare public relations to national and multinational brands. Carol is the immediate past Chair of the Canadian Council of Public Relations firms and is a 2013 Inductee in the Canadian Healthcare Marketing Hall of Fame as well as a Fellow of the Canadian Public Relations Society.
To help organizations and leaders adapt to change and transformation, CASACOM announced today: the creation of CASACADEMY, a professional development centre; STRUCTURAL PR™, an exclusive systematic approach to public relations; and a manifesto that elevates the value of Public Relations (PR) as an essential component of business.
"CEOs and leaders are facing unprecedented challenges as they seek to innovate and transform their organizations," said Marie-Josée Gagnon, APR, CEO and Founder of national PR firm CASACOM. "With our business-focused approach to public relations built around these three new initiatives, we help leaders build solid organizations focused on sustainable growth and common good." To learn more, please watch her video.
CASACADEMY, a new professional development process
After months of consultation with industry experts, CASACOM opened CASACADEMY, a new professional development center in Montreal and in Toronto. The center will welcome CEOs, senior executives, communications practitioners and spokespeople. CASACADEMY offers a rigorous and unique action-based learning process overseen by a team of experienced coaches and trainers who customize offerings to organizational needs. This highly effective program delivers immediate, tangible results to time-strapped business professionals.
"CASACADEMY has been in place internally for several years to support the professional development of our employees, and now we are making it available to clients," said Stéphane Ethier, Director, CASACADEMY. "We offer a different approach to learning and development. Much more than a training centre, CASACADEMY is designed to result in the highest possible level of professional development to achieve business impact."
STRUCTURAL PR™: a new approach to public relations
CASACOM also launched STRUCTURAL PR™, a systematic approach that uses public relations as a powerful means for stronger, more sustainable organizations.  STRUCTURAL PR™ builds on the synergies between an organization's vision, brand and its relationships. Using a set of innovative methodologies and tools, it integrates public relations firmly with business objectives and metrics to accelerate success.
"With STRUCTURAL PR™, we've combined our vision of public relations that we've used successfully over the last 13 years. It's a proven approach for more authentic and effective leadership," explained Gagnon.
 A manifesto to elevate the value of PR
CASACOM is also sharing its manifesto, which outlines its vision for public relations as an essential component to build and strengthen businesses.  The manifesto clearly enunciates the value that PR offers when integrated throughout an organization.
Behind the Scenes at #Cashmere BT Couture
A stunning show of Fashion with Compassion™ took to the Toronto runway at the eighth annual White Cashmere Collection, on Wednesday, September 28 at the Art Gallery of Ontario. Unique in the world, the collection features 15 established and emerging Canadian designers and their vision of a future without breast cancer, all showcased in garments and accessories crafted in 100 per cent pure, soft and luxurious Cashmere Bathroom Tissue.
Strategic Objectives created the White Cashmere Collection with Kruger Products eight years ago to launch Cashmere as the progressive evolution and replacement for Cottonelle toilet paper in Canada. An instant hit, Cashmere became, and remains, Canada's best-selling bathroom tissue.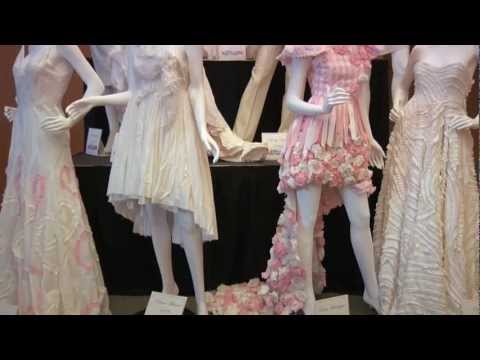 A fund- and awareness-raiser for the Canadian Breast Cancer Foundation, the Cashmere BT Couture collection heralds the annual return of limited-edition Pink Cashmere with twenty-five cents from the sale of every package going directly to the cause, throughout October Breast Cancer Awareness Month.
Please be Social – VOTE Couture for the Cure! View our unique-in-the-world BT couture collection at Cashmere.ca and vote for your favourite design. Cashmere will donate $1 for every vote to the cause, in the winning designer's name. Join the Cashmere Facebook page and you can win an exclusive white cashmere scarf created by WCC 2008 designer, Thien Le.
Want to see the garments and accessories up close and personal? The collection will be displayed in The Bay's flagship store windows at Yonge and Queen streets in Toronto and on Rue Sainte-Catherine West in Montreal, for the fourth consecutive year, throughout October Breast Cancer Month.
Don't just take it from us, this story is making news! Take a look at what the media is saying about Cashmere BT Couture!
Our awesome Strategic Objectives team was thrilled to produce the 8th annual White Cashmere Collection: Fashion with Compassion. A year in the making, it is a beautiful example of a brand collaborating with its high-power community to create social good.
The White Cashmere Collection is now on display in The Bay's windows looking as gorgeous as ever!
The world belongs to those who understand it. In the social media ecosphere, we at Strategic Objectives believe those who understand their audiences best have the highest likelihood of generating the best results. PRs need to understand how to tell a brand's story and make it speak to audiences so effectively that the message can transcend all platforms and inspire sharing. PRs are natural communicators, but even here, you really need to understand your audience to maximize results.
Everyone is trying to figure out user behaviors online. Once we understand behaviors, we can better understand how to reach our target markets and build the best and highly-engaged online communities for our clients. What if we were to say most gamers have never been to college? What if we were to tell you there's a strong use of social networking in the workplace?
Social Media Today recently released some statistics on social media usage and its demographic landscape. The statistics are deduced from 900 websites that average 9 million visits/month per site and offer some very valuable, not-so-surprising and nonetheless interesting results on user data. That data can be found in the chart below, where we have also created a quick summary of the research findings.
Demographic Findings:
Social networking is dominated by younger generations with no children, and online networking activity picks up in college
Social networks are most popular among the youngest generation (18-34) and are used less frequently for each successive age group over 35
Youth ages 18-24 tend to use social networks to supplement social life, learning, and having fun.
The most diverse use of social networks comes from the 25-34 year old age group.

Continue to use the services they used in college, but less often
As they start to have new interests (business, family), they are most likely to use online social engagement to benefit their business/career, discuss or plan travels, and share family-related experiences online

The 35+ demographic show technological bias against social networking.

High likeliness of these age groups to use business, family, and dating networks
Stats also suggest that social networking's popularity among youth may be not just be due to technological differences, but to a better fit of interests

People with college-level education tend to have a higher rate of social for participation with networks across the board.

This suggest the expanding network once in college
Also demonstrates there is a tremendous amount of information shared between students
Outlier Findings: Two categories break this trend
Gaming has an unusually high participation rate among people without college experience

Likely that a high percentage of gamers are young

Places has a very high participation rate among people with graduate-level schooling

Likely positive correlation between graduate school and income, and between income and travel.
Male VS Female Findings:
Gaming is strongly dominated by males
Lifestyle and family is strongly dominated by females
Dating, Places, and Business are used more often by females
Education networks are used most by males
Location Findings:
Strong use of social networks in the workplace

Distraction or sign of increasing application of social websites for practical purposes?