Viewing posts tagged as "CCPRF"
TORONTO, October 22, 2018 – The board and members of the Canadian Council of Public Relations Firms (CCPRF), the only national organization of leading public relations consulting firms operating in Canada, are pleased to announce the appointment of Judy Lewis as Chair of the organization effective October 2018. Lewis takes over from David Gordon, previously Managing Partner of Cohn & Wolfe, who served as Chair of CCPRF since 2013. CCPRF is dedicated to promoting the role of public relations in business strategy and organizational development and performance in Canada.
Judy Lewis is the Cofounder and Partner of Strategic Objectives. A recognized leader in the communications industry, Lewis provides senior counsel to many of the world's leading brands and has brought corporate social responsibility to heightened importance throughout many organizations. Lewis has been active in CCPRF since its founding in 2001.
"Public relations agencies are experiencing both growth and diversification. CCPRF plays an important role in advocating on behalf of the industry and advancing the ethics and reputation of public relations as a vital strategy to connect with consumers and stakeholders. As organizations recognize the demand for more transparency in both B2C and B2B markets, public relations firms play an important role in helping to navigate communications, while being true to a code of ethics that aligns with best practices," says Lewis. "On behalf of the CCPRF, I want to sincerely thank David Gordon for his leadership and dedication. Moving forward, my mission will be to continue to advance the reputation of our industry and demonstrate the ongoing value and contributions our members make to communities, businesses and our country".
Public relations firms are now offering more diverse services than ever before and are making even more significant contributions to marketing and all aspects of external communications, advocacy and reputation management. As media and the marketing environment have changed, CCPRF member firms have evolved to be at the forefront – providing greater depth of services and opportunities. Consumers crave more information and experiences, are active in multiple digital channels and are influenced by new and emerging digital opinion leaders who are no longer only esteemed academics and media. CCPRF member firms identify the right solutions to communication challenges and bring the experience and resources to their clients, providing valuable insights to help them make the right decisions and enabling them to maintain and advance their relevance and success. To see a complete list of CCPRF's member firms visit our website, here.
"I have a passion for contributing to the advancement of the very best in public relations and for the entrepreneurial spirit that is so integral to Canada's leading public relations firms that are CCPRF members. I truly look forward to working with my CCPRF colleagues to advance the value and reputation of public relations." concludes Lewis.
Lewis is a long-time leader in the communications field. Her firm is the only Canadian agency to have ever been recognized by the United Nations with an award for Outstanding Achievement in Public Relations. A native of Montreal and graduate of McGill, Lewis serves on the Boards of several non-profit organizations, and is the Chair of Centennial College's Corporate Communications and Public Relations Advisory Committee. Lewis also serves as the communications strategist for The Canadian Centre to End Human Trafficking and is the recipient of both the Queen's Diamond Jubilee Medal, and the Queen's Golden Jubilee Medal for Outstanding Contributions to Canada and the Communications Industry.
-30-
For further information about the Canadian Council of Public Relations Firms or to learn how to become a member of CCPRF please visit www.ccprf.ca or contact: Judy Lewis 416 366-7735.
If there is any doubt about whether I am frustrated, cynical or just plain grumpy over this CASL law, the answer is yes to all three. I might feel differently if I was a lawyer, or could have one permanently on staff, but that's not the case.
As CEO of energi PR, a mid-sized, independently owned, Canadian public relations firm, I am trying to understand why Canada's anti-spam law needed to be so complicated and costly to implement. The law applies to all individuals and businesses sending commercial electronic messages (CEMs) and so, ignorance or a lack of sophistication or resources will presumably not be an excuse to be deviant. And so the rational part of my brain says, wait a minute all you small and medium-sized business that form the cornerstone of the Canadian economy and are trying to do business, win business and stay in business, why would anyone want to penalize those Canadian businesses who do not send SPAM? Ours is the business of public relations. We tell stories. From important medical discoveries to the colour of a new lipstick – and everything in between. Those who take these stories and develop them for their audiences and communities generally want to hear from us and, even when they occasionally might become annoyed by a bit of persistence, they would hardly describe our email communications as SPAM.
Yes, we want to ENLARGE our client's business and our own, but does this compare in any way with penis enlargement supplements, the latest weight loss scheme or an invitation to meet the woman or man of your dreams?
Make no mistake. energi PR is CASL compliant. We've distributed our consent requests, hired one of the country's most knowledgeable internet law specialists, engaged our IT team, implemented a contact management system, ensured that our email signatures provide an unsubscribe function, trained our team, documented our procedures and anointed a Compliance Officer. Can you imagine any better use of our resources?
As I said at the start of this rant, I am tired and grumpy about all of the machinations and cost that CASL has imposed. But I am also sympathetic to those in PR and in other businesses who simply do not have the wherewithal to jump into the CASL action.. The Canadian Council of Public Relations Firms, an industry association that represents more than 25 of Canada's leading PR firms, of which energi PR is a founding member, has further supported its members by obtaining its own legal opinion that focuses on our stock and trade, including communications with journalists. The Canadian Public Relations Society webinar explaining CASL is another valuable resource for our profession.
I agree that SPAM is annoying and efforts should be made to eliminate it. I also don't think that the authors of CASL were intentionally mean-spirited. But sometimes even the very best of intentions come back to bite one on the butt. My sense is that CASL will have little impact on the email junk we've received to date and convinced that unnecessary obstacles have been put in place for honest, legitimate individuals and companies that want to be profitable and contribute to Canada's economy and society. I would have much rather have made a charitable donation than pour thousands of dollars into CASL compliance.
As a final note. I started in business before fax machines were invented. Who knows, maybe making the Canadian commercial email message such a villain will force us back into personal business interaction, which wouldn't be so bad.
—————————————————————————————–
Carol Levine (@Carol_levine) is co-founder and Managing founder of energi PR, digital, communications, an award-winning independently owned Canadian PR consultancy established in 1990 with offices in Toronto and Montreal. energi PR is the Canadian affiliate of the Public Relations Global Network, providing expertise in consumer and healthcare public relations to national and multinational brands. Carol is the immediate past Chair of the Canadian Council of Public Relations firms and is a 2013 Inductee in the Canadian Healthcare Marketing Hall of Fame as well as a Fellow of the Canadian Public Relations Society.
The Canadian Council of Public Relations Firms (CCPRF) is hosting the third annual PR Agency Boot Camp on Friday, March 1, 2013. Make sure you register for the 2013 CCPRF PR Agency Boot Camp as this event is sure to sell out quickly. Registration is now open, and an Early Bird rate is available until February 15!
Friday, March 1, 2013 – 8:30 a.m. – 5 p.m.
St. Andrew's Club & Conference Centre
150 King St. West, Toronto
This one-day conference is a must-attend for PR professionals with 3 to 5 years experience who want to sharpen their overall skillset. The curriculum has been developed with agency professionals in mind, but is open to all practitioners. Sessions, led by leaders of Canada's top PR firms, will include topics such as:
Building Client Relationships
How To Develop A Strategic Mindset
Your Personal Brand
Trendspotting…and the role that plays in PR
Managing Up, Managing Down
How To Create Your Future In PR
In addition to our own leaders, we are assembling a selection of outstanding third-party speakers. Stay tuned for more details about conference content.
EARLY BIRD SPECIAL
Take advantage of $50 off if you register before February 15, 2013.
Rates after that will be: $495 for CCPRF members, $595 for non-members and $395 for agencies sending 3 or more people.
In partnership with:
A special thank you to our confirmed PR Agency Boot Camp sponsor:
I've been swimming in the #usguys stream since it first appeared in the Twitterverse in the fall of 2010. A 24/7, non-stop twitter chat focused on marketing, social media and tech, #usguys has attracted a diverse and brilliant international community of tweeps who share info, opinion and virtual friendship around the clock.
With more than 1,000 participants, including many leading-edge social marketers around the globe and a constantly shifting conversation ranging from the hottest social media trends, tools and techniques to who's doing, drinking, eating what — #usguys has become an incubator of fresh ideas and a popular hang-out for the socially obsessed.
The idea of creating #usguysEH, Canada's first ever IRL meet-up in Toronto on April 8, 2011, started small, in the form of a tweet I received from @Josepf, an exuberant, hyper-active marketer and poet from Philly, who was planning a spring trip to Toronto to visit family.
"Great," I replied, "let's do a Meet Up!" including @samfiorella, a mutual friend and #usguy I'd met IRL at #ungeeked Toronto last November and absolutely adore, in my tweet. Our convo was, of course, live in the stream and the die was cast from that night. #usguys around the world wanted in!
The who, what, when, where and how much it would cost to stage a meet-up were questions yet to be answered. But the why was very clear. We would create a unique, sleek and chic Toronto destination event starring some of the finest minds in the twitterverse to have fun, meet, greet and make connections that would optimize both our personal and professional lives.
Our original cadré instantly expanded to include @jackineccity from San Francisco, @mentormarketing from NYC, @rubymarcom from Buffalo, @KarimaCatherine, @Smartel and @exoporier from Montreal and @PeterfromOttawa. We had an international happening on our hands.
My co-host in #usguysEH @samfiorella created an awesome website to promote the event and sell tickets; my colleagues at Strategic Objectives, our Toronto-based PR agency, kicked in with sponsorship dollars and impeccable event organizing from logo development through nametags, programs and event-photography and videography.
#usguysEH was everything we'd hoped for. Starring 30 fabulous social media adventurers from the US and Canada, it was an exceptionally elegant and uber-social evening in Toronto's celebrity hang-out, Bistro 990.
An evening of fine food, drink and a fire hose full of lively, trendy conversation, there's little doubt that the round of tequila shots, interspersed amongst our one minute elevator-pitch #intros, helped loosen our tongues. A highlight of the evening included a prezo by Mike Yavonditte (@mikeyavo), CEO of #hashable who flew up from NYC with his senior VP Jane Kim, @Jinner13, to share his latest news. It didn't take long before everyone was hashtag happy with #justmet and #nicetomeetyou.
An oasis of discovery, exploration and fine friendship set to flourish, #usguysEH was a unique opportunity to make it real in the social world and a stunning example of the power of Twitter to attract like-minded tweeps to form meaningful communities.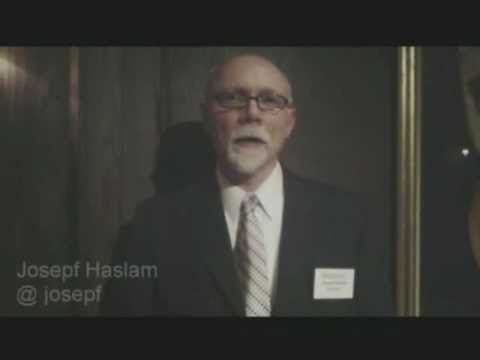 We are SO grateful to our @SO_pr PR pros @AndrewFStewart, @smichm, @mjovanoski, Stephenie Peters, @Sadiethefoodie and @judyslewis, Jim Colbourne and Tom Peterson in Production for their contribution to what was a truly memorable meet-up.
Deborah Weinstein.
The Canadian Council of Public Relations Firms has issued a Request for Proposal (RFP) for media monitoring services. This RFP covers both traditional and online media.
Download the Monitoring RFP if you are interested in submitting a proposal to provide these services.
On Tuesday, June 23, 2009, the Canadian Council of Public Relations Firms will host a panel of industry leaders to share their insights and perspectives on how cutbacks to mainstream media and new social media practices are redefining the PR landscape.
Panelists include:
Dr. Terry Flynn, PhD, assistant professor, DeGroote School of Business and national president of the Canadian Public Relations Society.
Mathew Ingram, online communities editor, Globe and Mail.
Keith McArthur, senior director, digital communications, Rogers.
The panel will be moderated by Trevor Campbell, president, Porter Novelli Canada.
You can follow the event on Twitter, hashtag #CCPRF, or watch this website for a recap of the discussion.