Viewing posts tagged as "#Usguyseh"
I've been swimming in the #usguys stream since it first appeared in the Twitterverse in the fall of 2010. A 24/7, non-stop twitter chat focused on marketing, social media and tech, #usguys has attracted a diverse and brilliant international community of tweeps who share info, opinion and virtual friendship around the clock.
With more than 1,000 participants, including many leading-edge social marketers around the globe and a constantly shifting conversation ranging from the hottest social media trends, tools and techniques to who's doing, drinking, eating what — #usguys has become an incubator of fresh ideas and a popular hang-out for the socially obsessed.
The idea of creating #usguysEH, Canada's first ever IRL meet-up in Toronto on April 8, 2011, started small, in the form of a tweet I received from @Josepf, an exuberant, hyper-active marketer and poet from Philly, who was planning a spring trip to Toronto to visit family.
"Great," I replied, "let's do a Meet Up!" including @samfiorella, a mutual friend and #usguy I'd met IRL at #ungeeked Toronto last November and absolutely adore, in my tweet. Our convo was, of course, live in the stream and the die was cast from that night. #usguys around the world wanted in!
The who, what, when, where and how much it would cost to stage a meet-up were questions yet to be answered. But the why was very clear. We would create a unique, sleek and chic Toronto destination event starring some of the finest minds in the twitterverse to have fun, meet, greet and make connections that would optimize both our personal and professional lives.
Our original cadré instantly expanded to include @jackineccity from San Francisco, @mentormarketing from NYC, @rubymarcom from Buffalo, @KarimaCatherine, @Smartel and @exoporier from Montreal and @PeterfromOttawa. We had an international happening on our hands.
My co-host in #usguysEH @samfiorella created an awesome website to promote the event and sell tickets; my colleagues at Strategic Objectives, our Toronto-based PR agency, kicked in with sponsorship dollars and impeccable event organizing from logo development through nametags, programs and event-photography and videography.
#usguysEH was everything we'd hoped for. Starring 30 fabulous social media adventurers from the US and Canada, it was an exceptionally elegant and uber-social evening in Toronto's celebrity hang-out, Bistro 990.
An evening of fine food, drink and a fire hose full of lively, trendy conversation, there's little doubt that the round of tequila shots, interspersed amongst our one minute elevator-pitch #intros, helped loosen our tongues. A highlight of the evening included a prezo by Mike Yavonditte (@mikeyavo), CEO of #hashable who flew up from NYC with his senior VP Jane Kim, @Jinner13, to share his latest news. It didn't take long before everyone was hashtag happy with #justmet and #nicetomeetyou.
An oasis of discovery, exploration and fine friendship set to flourish, #usguysEH was a unique opportunity to make it real in the social world and a stunning example of the power of Twitter to attract like-minded tweeps to form meaningful communities.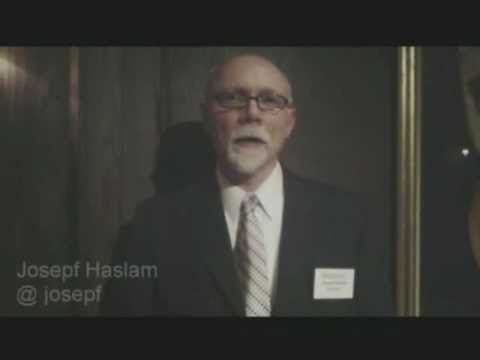 We are SO grateful to our @SO_pr PR pros @AndrewFStewart, @smichm, @mjovanoski, Stephenie Peters, @Sadiethefoodie and @judyslewis, Jim Colbourne and Tom Peterson in Production for their contribution to what was a truly memorable meet-up.
Deborah Weinstein.